Our Team in Kazakhstan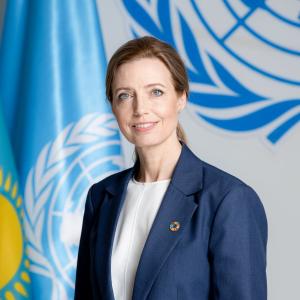 Michaela Friberg-Storey
RCO
United Nations Resident Coordinator for Kazakhstan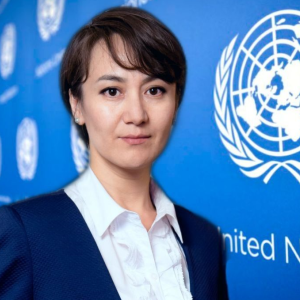 Aidai Kurmanova
UNEP
Head of UN Environment Programme (UNEP) Sub-Regional Office for Central Asia
Ms. Aidai Kurmanova started her assignment as the Head of Central Asia Office in Almaty on 2 February 2019. She has 21 years of experience in the field of sustainable development. Prior to joining UNEP, she worked as the State Secretary of the Ministry of Economy of the Kyrgyz Republic for five years. Her main areas of expertise include design and implementation of policies on sustainable economic development. She developed strategic documents on green economy, e-governance, small and medium enterprise. She led the process of nationalizing the Sustainable Development Goals in the Kyrgyz Republic. She has significant practical work experience with the Parliament of the Kyrgyz Republic in improving the environment for business and has promoted draft laws on economic growth. She holds Master degrees on Development Economics from International University of Japan and Public Governance from the Academy of Management under the President of Kyrgyz Republic.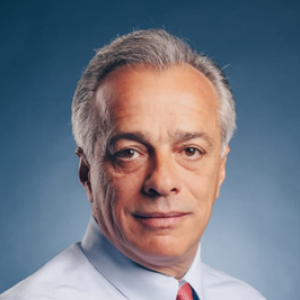 Amir Piric
UNESCO
Director (Officer-in-Charge) of the UNESCO Almaty Cluster Office and UNESCO Representative to Kazakhstan, Kyrgyzstan and Tajikistan
Dr Amir Piric works for UNESCO since 2004, initially as Head of Evaluation Office, within the Internal Oversight Service (IOS) of UNESCO and lately as Chief Programme Coordinator at UNESCO Institute for Lifelong-learning in Hamburg, Germany. He has been appointed as Director (Officer-in-Charge) for the UNESCO Almaty Cluster Office as of 1 April 2023. Before joining UNESCO, Dr Amir Piric worked for various institutions such as the Nordic Institute for Studies on Innovation based in Oslo in 2004, and the Government of New Zealand from 1996 to 2004. He holds a PhD in Public Administration as well as s Masters in European Society, Science and Technology from Roskilde University (Denmark).
Dr Piric holds dual citizenship (New Zealand and Serbia).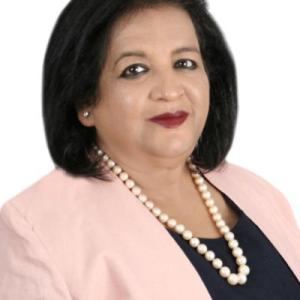 Ashita Mittal
UNODC
UNODC Regional Representative
Ms. Mittal has worked with the United Nations Office on Drugs and Crime (UNODC) for over twenty one years on drugs, transnational organized crime and terrorism, in diverse capacities. Prior to taking her position as the Regional Representative for UNODC Regional Office for Central Asia, that covers the Uzbekistan, Kazakhstan, Kyrgyzstan, Tajikistan and Turkmenistan and the three southern Caucuses Armenia, Georgia and Azerbaijan, she served as the Officer-in-Charge and the Deputy Representative, UNODC Country Office in Afghanistan (COAFG)from 2009 to 2014. She served as the Deputy Representative, UNODC, Regional Office for South Asia, covering Bangladesh, Bhutan, India, Nepal, Maldives and Sri Lanka from 1995-2009. Prior to this, she served with the World Food Programme in India, engaging on food security. From 1986 and 1993, she worked extensively with civil society on drug use prevention, treatment and rehabilitation in India and was well recognized for her pioneering work in this field. She also worked on child rights issues among vulnerable street and working children. She also served at an inner city hospital -Alcove Drug and Alcohol Centre, West Jersey Hospital, USA. As a development practitioner and social scientist, her work on policy, advocacy is nuanced with rule of law, justice, health, rights and gender perspectives. She has authored and co-authored several articles, reports and research, especially on drug control issues.
With a Graduate degree in Psychology and a Master's Degree in Social Work from Delhi University in India, Ms. Mittal was also a Fulbright Fellow (1989-90) in USA.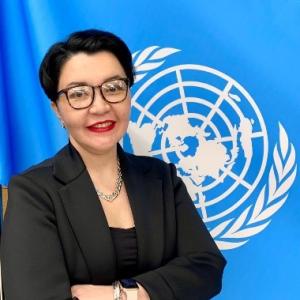 Dina Amrisheva
UN Women
UN Women Kazakhstan Head of Office ad interim
Ms Dina Amrisheva previously held positions as the Senior Grants and Budget Coordinator at the US Embassy, Astana, and the Senior Project Manager at the financial development institution Investment Fund of Kazakhstan JSC. She has over 19 years of extensive professional experience in the implementation and management of international and domestic programmes focused on investments, democracy building, development programmes, strengthening strategic partnerships and human capital, promoting inclusive growth, achieving gender equality and the empowerment of women, improving governance systems and development policies. Ms Amrisheva holds degrees in foreign languages, accounting, and audit. Also, she pursued studies at Cornell and Harvard Universities in the field of Public Administration and Monitoring and Evaluation of Humanitarian Programmes.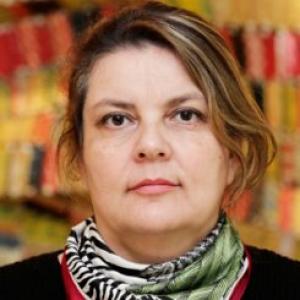 Gabriela Ionascu
UNAIDS
UNAIDS Country Director for Kazakhstan
Dr. Gabriela Ionascu has joined the UNAIDS Office in Kazakhstan in 2017 as a Strategic Information Adviser and since 2022 she has been appointed Director for UNAIDS Kazakhstan. She brings 25 years of field experience with UNAIDS, most recently in Central Asia, Asia-Pacific and Eastern Europe regions. Gabriela is a holder of a Master's Degree in Public Health. Gabriela has over twenty-five years of experience in HIV/AIDS policy development, fundraising, data base development, epidemiological modelling, monitoring and evaluation and programme management. Gabriela is a national of the Republic of Moldova, her native language is Romanian, and she speaks English, Russian and French. In 2020 Gabriela has been awarded the Medal for Contribution to the Health Care System of Kazakhstan as a recognition of her contribution to the development of the health system in Kazakhstan.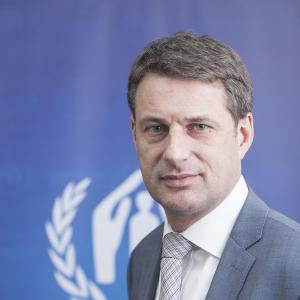 Hans Friedrich Schodder
UNHCR
UNHCR Representative for Central Asia
Previously Mr. Schodder served as Representative of UNHCR in Serbia, including one year as Resident Coordinator a.i. of the United Nations. In 2012-2015 Mr. Schodder was Deputy Chief of Mission of UNHCR in India, Senior Emergency Coordinator of UNHCR for the Syria Crisis (2014) and Representative of UNHCR in Kyrgyzstan (2008-2012). Mr. Schodder began his career with UNHCR in 1991 in Hong Kong, followed by subsequent assignments in Viet Nam, as Senior Liaison Officer of UNHCR to the OSCE in Vienna (1996-2001) as well as Senior Protection Officer of UNHCR in Ukraine, in Sudan, and in Sri Lanka (2001-2008). He is married with two children and graduated with a BA (hons) in Social Anthropology and Vietnamese Studies from the School of Oriental and African Studies, University of London.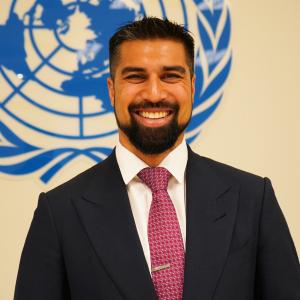 Justin Allim Rashid
UNDSS
UNDSS Security Advisor
Mr Justin Rashid is the Security Advisor for the United Nations in Kazakhstan since May 2021. Justin joined the UN in 2015 as Field Security Advisor for UNICEF in Yemen, where he worked for three years. After an interval with the World Food Programme in Nigeria, he moved to UNDSS Jordan in 2019, where he served as Security Advisor and became a key figure in the UN's COVID-19 response. Prior to joining the UN, Justin was a civil servant in the UK. His subsequent international experience includes several years in the Middle East in the private security industry. Justin graduated from the University of Exeter in the UK with a BSc. in Psychology and went on to Master's degrees from Cornell (Psychology), the University of Westminster (Diplomacy), and the University of Southern California (Communications).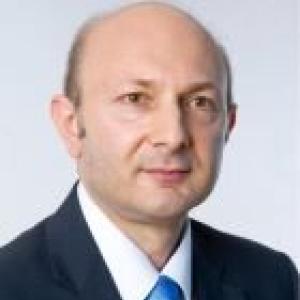 Kaha Imnadze
UNRCCA
Special Representative of the Secretary-General and Head of the United Nations Regional Centre for Preventive Diplomacy for Central Asia
Mr. Imnadze brings to the position over 30 years of experience in diplomacy, civil service and business. Joining his country's Foreign Service in 1989, he possesses extensive experience in diplomacy, negotiation, and mediation; foreign, defence and security policy; conflict resolution and political risk assessment. Mr. Imnadze served as Ambassador of Georgia to Canada and Permanent Representative to the International Civil Aviation Organization. Previously, he served as Permanent Representative of Georgia to the United Nations from 2013 to 2022. Mr. Imnadze has also spent 10 years in the private sector working on issues of political risk assessment and investment. Mr. Imnadze is a graduate of Tbilisi State University. He speaks Georgian, English and Russian.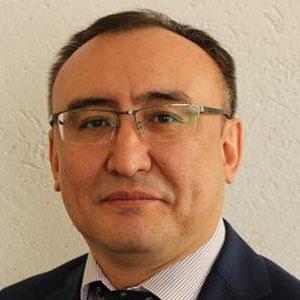 Kairat Nazhmidenov
FAO
FAO Representative
Education: University of International Business (UIB), Kazakh National Agrarian University (KazNAU). At various times, he was an economist at CARANA Corporation (1994-2001), the Asian Development Bank (2002) and the World Bank (2003-2004), as well as an international expert on economics and investment FAO (2004-2019), including at headquarters FAO apartment (Rome, Italy) and the FAO regional office for Europe and Central Asia (Budapest, Hungary). Since 2017, he heads the FAO Liaison and Partnership Bureau in Kazakhstan. He has many years of international experience in 18 countries around the world in economics and investment in the development of the agri-food sector and rural areas, improvement and rehabilitation of forestry and fisheries, sustainable land and water management, the introduction of resource-saving and climate technologies in Eastern Europe (Albania, Belarus, Bosnia and Herzegovina, Kosovo, Northern Macedonia, Moldova, Serbia, Ukraine, Montenegro), the South Caucasus (Armenia, Azerbaijan, Georgia), Central and Southeast Asia (Kazakhstan, Kyrgyzstan ZSKA Republic, Tajikistan, Uzbekistan, Mongolia, the Philippines).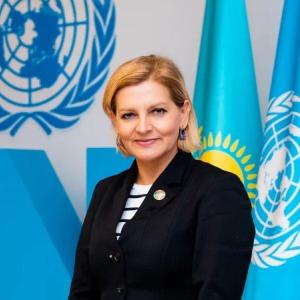 Katarzyna Wawiernia
UNDP
UNDP Resident Representative in Kazakhstan
Katarzyna Wawiernia is a native of Poland, serving in the United Nations since 2005. She held Resident Representative Position in UNDP Sao Tome e Principe since April 1, 2019. She also held Resident Coordinator interim function in Sao Tome e Principe for one and a half year.
Prior to this appointment, Katarzyna was UNDP Deputy Resident Representative in Malawi (2013-2018). From 2008-2013, she served as UNDP Deputy Resident Representative in Guinea-Bissau. From 2005 to 2008, Katarzyna was responsible for capacity building and procurement at UNDP Angola.
Prior to that, Katarzyna worked for five years as a microfinance advisor in the non-governmental sector in South Africa and Mozambique, where she managed income-generating programmes for refugees. She started her career in the corporate sector in Poland in 1996.
Katarzyna holds a master's degree in Banking and Finance from the Warsaw School of Economics (Poland) and a Postgraduate Certificate in International Development (specialising in Conflict, Security, and Development) from the University of Birmingham (United Kingdom). She speaks English, Portuguese, French, Spanish, and basic Russian. Katarzyna likes travelling and discovering new cultures. She has volunteerism at her heart and likes being among people in the field. She has two twin daughters.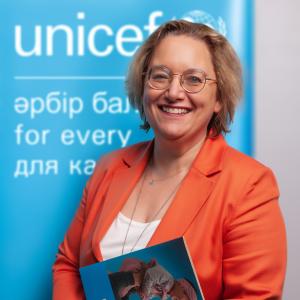 Laetitia Bazzi-Veil
UNICEF
OIC Representative of the UNICEF in Kazakhstan
Laetitia Bazzi-Veil was appointed as Deputy Representative of the United Nations Children's Fund (UNICEF) in the Republic of Kazakhstan as of March 1, 2022. She holds master's degrees in politics and in International/European Law from the University of Panthéon-Sorbonne in Paris. She has more than twenty years of experience in international cooperation for development, with particular focus on child protection.
Laetitia has worked for UNICEF these past 12 years, as Chief Child Protection, respectively in Sénégal and Côte d'Ivoire. With her team, she contributed to Child Protection systems' strengthening, in close collaboration with social welfare, justice, security, education and health ministries, through sector wide approaches. She has the experience of managing Programmes both in development and emergency contexts.

Before joining UNICEF as staff in 2009, Laetitia collaborated with UNICEF's Regional Office in West and Central Africa, various UNICEF's country offices in the region, ILO (International Labour Organisation), USAID, the World Bank, IDRC (International Development Research Centre), and private research centers, for knowledge and policies development in the areas of violence against children, child trafficking, child labor, child justice, social welfare systems, and social protection.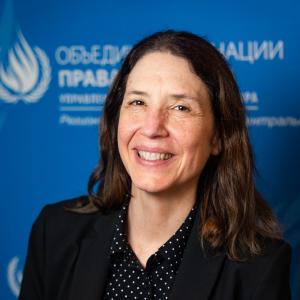 Matilda Bogner
OHCHR
Regional Representative of the UN Office of the High Commissioner for Human Rights for Central Asia
Matilda Bogner has worked in the UN system since 2006. Before coming to Central Asia, Ms. Bogner headed the UN Human Rights Monitoring Mission in Ukraine for 4 years. This is her second appointment as the head of the Regional Office of the High Commissioner for Human Rights (OHCHR) in Central Asia. Previously, she also headed the Regional Offices of OHCHR in the Pacific region and in South-East Asia. She also headed the Human Rights, Transitional Justice and Rule of Law Division of the United Nations Support Mission in Libya and was Senior Human Rights Advisor for the UN in Belarus. Prior to that, she worked on human rights for nine years in the Europe and Central Asia region and speaks Russian fluently. She has a legal education and also worked as a criminal defence lawyer in Australia.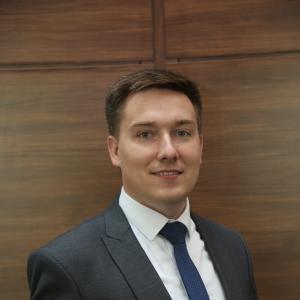 Nikita Shabayev
UNV
UNV Country Coordinator
Nikita Shabayev has solid experience of more than 15 years of practical experience in development with public sectors, NGOs and UN. He's been working in different UN projects from 2015: UN EXPO-2017, youth development under the UNDP Project, UNDP project on Social Inclusion, UNDP project on optimizing the civil service in Kazakhstan, as a UN Volunteer developed Corporate Volunteerism schemes in the South of Kazakhstan,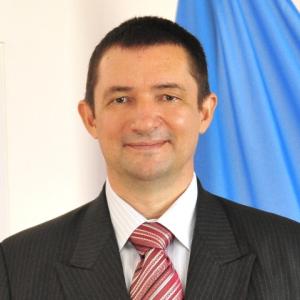 Nikolay Pomoshchnikov
UN ESCAP
Head of the ESCAP Subregional Office for North and Central Asia
Mr. Pomoshchnikov has an extensive experience in bilateral and multilateral diplomacy. Before joining ESCAP in 2011, he was the Deputy Permanent Representative of the Russian Federation to ESCAP. He has the diplomatic rank of Envoy Extraordinary and Plenipotentiary (second class). He holds a PhD in Political Science.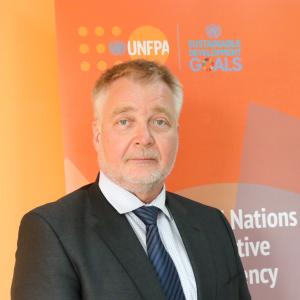 Ronny Lindstrom
UNFPA
UNFPA Representative for Kazakhstan, Country Director for Kyrgyzstan and Turkmenistan
Originally from Sweden, Mr Ronny Lindstrom started his career with UNFPA in Central Asia as Programme Officer covering the Central Asian Republics based in Uzbekistan. He also worked in the Asia and Pacific Division and the Division of Management Services, where among other duties, he served as the secretary of the Contracts Review Committee. He then worked as UNFPA Deputy Representative in China and was then seconded to the CEB Secretariat under the office of the Secretary General in Geneva before returning to UNFPA in Dili, Timor Leste. Mr Lindstrom holds Bachelor of Arts degree in Political Science and History from Delta State University (USA), MA in Political Science from Mississippi State University (USA), MSc degree in Political Science from University of California (USA), and PhD in Political Science from University of California, Riverside (USA).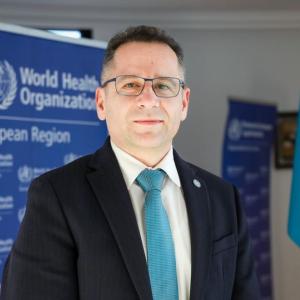 Skender Syla
WHO
WHO Representative and Head of WHO Country Office in Kazakhstan
Dr. Skender Syla has been with WHO for more than 20 years. Prior to his appointment in Kazakhstan, Dr. Syla was WHO Representative in Bulgaria (2017-2022), Head of WHO Pristina Office (2009-2016), and from 2000-2005 held various regional positions as National Professional Officer in the post-conflict reconstruction and health systems development stages at the country level, and later worked at the WHO Regional Office for Europe in Copenhagen.
Prior to joining WHO, he has worked for the humanitarian organization Mother Teresa (1996-1998) and the International Medical Corps (1998-2000) as a physician in the Western Balkans in various humanitarian response programs in support of people affected by humanitarian crises.
He graduated from the Faculty of Medicine at the University of Pristina and holds a master's degree in international health from the University of Copenhagen.

Talgat Umirzhanov
ILO
ILO National Coordinator
Joined the ILO in 1997. Head of External Relations Department of the Ministry of Labour and Social Protection of the Republic of Kazakhstan. In 1989 – 1993 Deputy Director of the National Center for Public Opinion and Market Research In 1985- 1989 Senior Editor of Sociological Service of the Kazakh State Committee for Television and Radio Broadcasting. ILO National Coordinator in Kazakhstan promotes Decent Work Agenda and is responsible for the implementation of Decent Work Country Program for the Republic of Kazakhstan, arranges technical assistance on ratification of ILO conventions, as well as he provides support and development of cooperation between ILO and tripartite partners. Identification of social and economic development priorities for formulation of ILO targeted activities in the country is also his priority; He is member of UNCT and keeps close relationship with other International organizations in the country.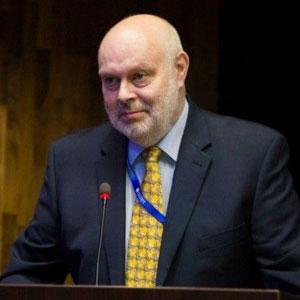 Vlastimil Samek
UNIC
Representative of the United Nations Department of Global Communications
Mr. Vlastimil Samek is the Representative of the United Nations Department of Global Communications and the Head of the United Nations Information Office in Kazakhstan. Prior to that he worked for the United Nations as the Representative of the United Nations Department of Public Information and Head of the United Nations Information Office in the Republic of Kazakhstan; Director a. i. of the United Nations Information Centre in Indonesia and Director a. i. of the United Nations Information Centre in the Islamic Republic of Pakistan. Has more than 30 years of extensive experience in international affairs, diplomacy, economic diplomacy, communications, advocacy and public relations. He joined the United Nations after serving his country in various senior positions at the Ministry of Foreign Affairs and the Ministry of Industry and Trade, including long-term assignments to Diplomatic Missions in Myanmar, Bangladesh and Mongolia. Holds a Master's Degree from the University of Economics in Prague (Czech Republic).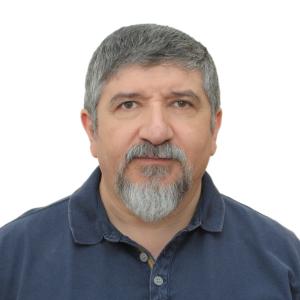 Zeynal Hajiyev
IOM
IOM Sub-Regional Coordinator for Central Asia, Chief of Mission in Kаzakhstan, Kyrgyzstan, Turkmenistan and Uzbekistan
Mr. Zeynal Hajiyev was appointed as Chief of Mission in IOM Kazakhstan, Coordinator for Central Asia, non-resident Chief of Mission in Kyrgyzstan, Turkmenistan and Uzbekistan in October 2019. Mr. Zeynal Hajiyev holds Advanced Diploma in Public Administration from the The Nottingham Trent University, UK (1997) as well as Diploma in Engineering from Moscow Bauman State Technical University, RF (1986). His academic background is coupled with extensive experience in more than 25 years, such countries as Belarus, Iraq, Kosovo. Mr. Zeynal Hajiyev reaffirms his commitment to support the Governments of the Central Asian countries and civil society in preventing and eradicating human trafficking, as well as to ensure safe migration.