Story
UN Resident Coordinator in the Republic of Kazakhstan Michaela Friberg-Storey presents her credentials to President Kassym-Jomart Tokayev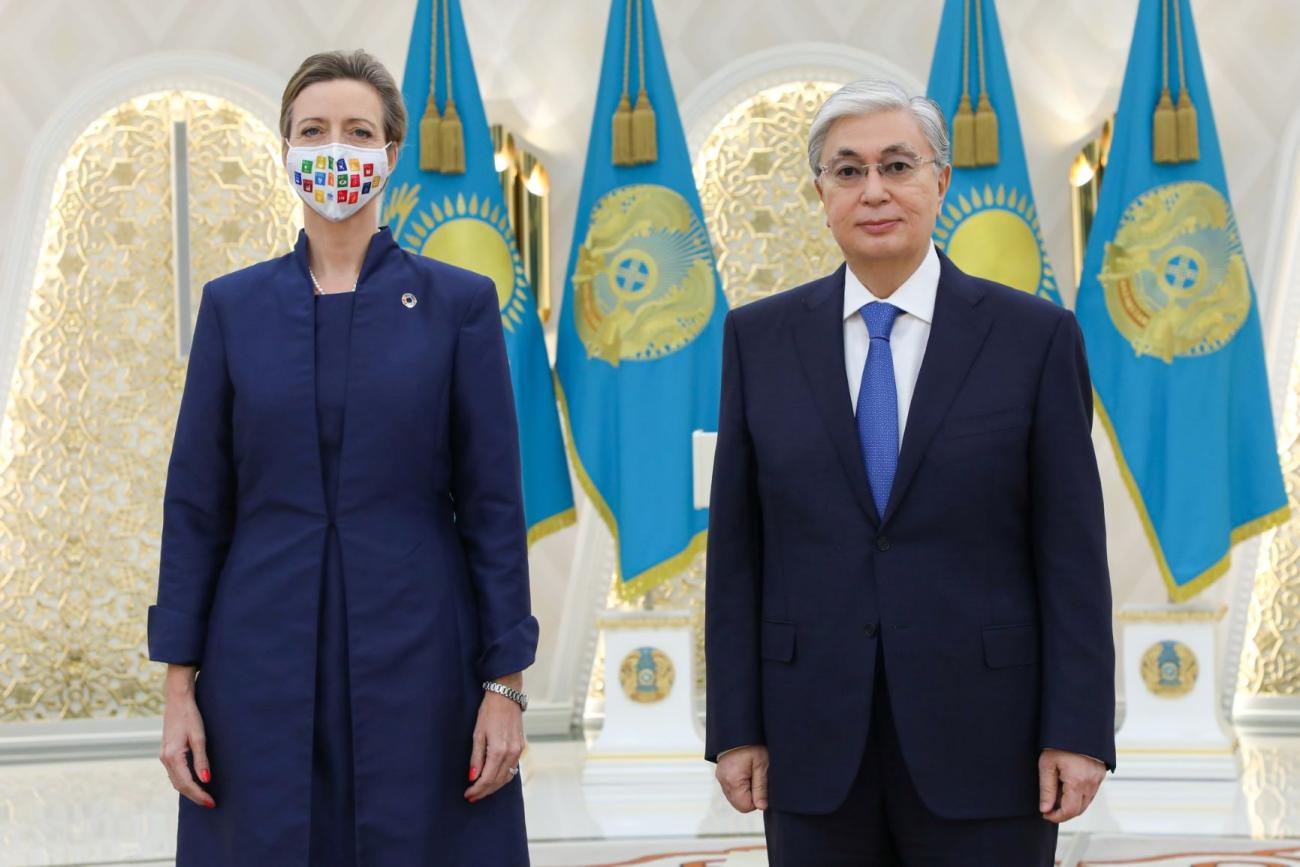 Ms Michaela Friberg-Storey officially assumed her duties as Resident Coordinator of the United Nations in the Republic of Kazakhstan.
Following the official ceremony of the handing over of credentials and the meeting with the President of the Republic of Kazakhstan Kassym-Jomart Tokayev, Ms Friberg-Storey addressed the media: "I am honoured to take up my duties as the UN Resident Coordinator. I regard my new position as an opportunity to further strengthen the excellent UN-Kazakhstan cooperation and to contribute to the implementation of the new UN Sustainable Development Cooperation Framework".
The Cooperation Framework has been developed in a multi-stakeholder process in consultation with representatives of state institutions, civil society and academia. The   guiding idea is that the 2030 Agenda can only be achieved with the participation of all people of Kazakhstan, including men, women, youth, persons with special needs – all to ensure that we Leave No One Behind.
As in the rest of the world, the economic slowdown in Kazakhstan caused by the pandemic may pose risks to achieving the SDGs and can affect implementation of the Cooperation Framework.  Therefore, the UN system has developed a Socio-Economic Response and Recovery Support Plan, which will also be fully compatible with the new Cooperation Framework.
Within three thematic areas – i) Human Development and Equal Participation, ii) Effective Institutions, Human Rights and Gender Equality, and iii) Inclusive Economic Growth and Environmental Sustainability – interventions will be implemented under six outcomes that focus on social, economic and environmental dimensions of sustainable development.
The UN is deepening its support to Kazakhstan to better support the ambitious vision of the country's forward-looking development agenda and the Government's commitment to the Sustainable Development Goals. The UN system in Kazakhstan will remain a rights-based and trusted partner, focused on providing the most relevant policy advice, technical assistance and access to global networks for all partners in the Republic of Kazakhstan.
BIOGRAPHICAL NOTE:
Ms. Michaela Friberg-Storey brings over 20 years of experience working with peace, security and development.  Most recently, she has worked on strategic leadership of humanitarian operations and diplomacy for the Red Cross and Red Crescent Movement. Prior to that, she served the Swedish Government as a civil servant in management positions in the Agency Specialised on Development, Peace and Security and the Ministry of Foreign Affairs. For a decade she served under the United Nations Interim Administration Mission in Kosovo (UNMIK) where she headed the Election Field Operations of the Organization for Security and Co-operation in Europe (OSCE), held the position of Director of European Union Integration Office, and served the United Nations Special Envoy for Kosovo.
Ms. Friberg-Storey holds a Bachelor of Arts in Political Science from Stockholm University and completed a post-graduate degree on master's level in Humanitarian Assistance at Uppsala University.
For more information, please contact Press Officer of the UN in Kazakhstan Ms Elnara Bainazarova: tel: +7 701 9400086, e-mail: elnara.bainazarova@un.org.
UN entities involved in this initiative
RCO
United Nations Resident Coordinator Office