Press Release
UN experts agree that Kazakhstan's experience repatriating and reintegrating children and women returned from conflict zones serves as an example for many countries
16 March 2023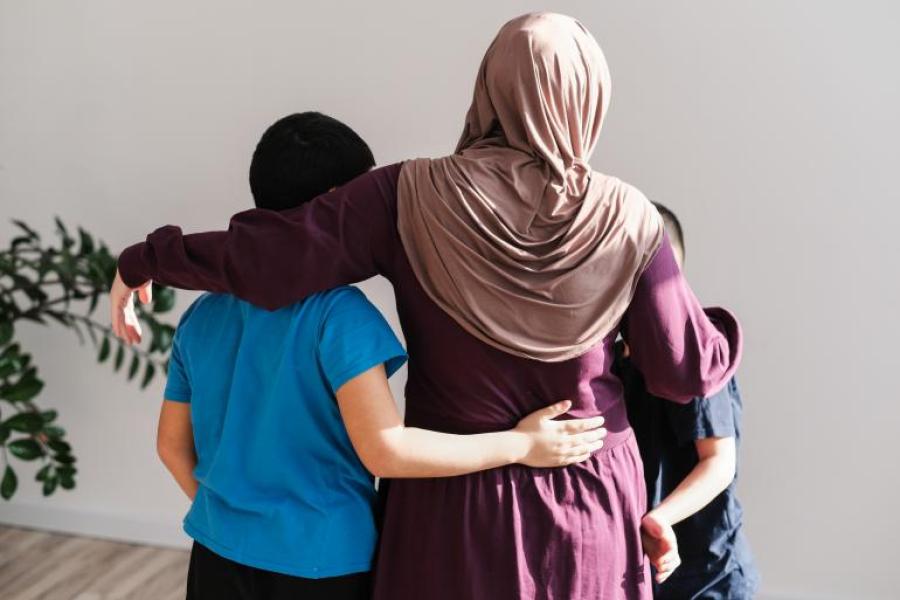 The European Union, Kazakhstan Ministry of Foreign Affairs, UNICEF, UN Women Kazakhstan, and the Committee for Children Rights Protection of the Ministry of Education summarized the results of their joint work rehabilitating and reintegrating children, women, and families returned from conflict zones.
During two humanitarian operations, respectively called Zhusan and Rusafa, joint efforts saw 725 people, including 188 women and 522 children, returned to Kazakhstan from conflict zones. Most children were under 12 years old.
"Applying a multi-sectoral approach to the rehabilitation and reintegration of children and women has proven to be effective, which is evident from the results of the programme implemented jointly with international organisations. The individual approach to each child and the prioritisation of children's interests in the provision of state services has enabled positive results to be achieved. We hope that Kazakhstan's experience in general, as well as new approaches and recommendations developed jointly with international organizations, will be useful for professionals both inside and outside the country," said Talgat Kaliyev, the Ambassador-at-Large of the Ministry of Foreign Affairs of the Republic of Kazakhstan.
In 2021, the Kazakhstan Government, together with UNICEF and UN Women launched a program, co-financed by the European Union, aimed at reintegrating women and children from conflict zones as well as providing children and their families with protection and access to social services and education.
According to Arthur van Diesen, UNICEF Representative in Kazakhstan, "Kazakhstan is one of the few countries that have repatriated most of its women and children, both from Syria and Iraq. We are very pleased that, in addition to repatriation, the Government of Kazakhstan, in cooperation with international organizations, has done a lot to rehabilitate and reintegrate children and their families. Kazakhstan's experience is very valuable for other countries in the region facing similar challenges. Ensuring the rights and interests of children should be a priority for everyone. Therefore, now our joint task is to make the positive changes that occurred with children and their families within the framework of Kazakhstan's program sustainable."
The parties first established the National Resource Centre at Eurasian National University to provide general and advanced training to specialists working with these children. This centre allowed experts to communicate and jointly work with regional universities in Atyrau, Karaganda, Pavlodar, Turkestan, Almaty, and Shymkent, where colleagues exchanged experiences on training professional psychologists. Next, the parties established resource groups on education, psychosocial support, and mental health care for children and families within this framework.
More than 250 specialists and practitioners throughout Kazakhstan studied provision of the psychosocial support, legal, and ethical issues arising from the reintegration process, thanks to which, more than 200 children received improved psychosocial and educational services.
Experts also developed and presented the 'stories between generations' method of reaching repatriated citizens, which aims to restore lost family and social ties as well as promote responsible citizenship and identity. Through storytelling, older generations share their experiences with children to help teach them the ethics, values, and cultural norms of society in Kazakhstan, including differences between learned and expected behaviours. To date, programme officials trained the first group of teachers and employees from local executive bodies in Shymkent, Karaganda, Zhezkazgan, and Uralsk in this storytelling method. Experts also prepared video lessons to increase the number of trainees and promote the method's long-term sustainability.
Following the training, experts provided specialists with practical manual on working with children and families returned from conflict zones. The manual contains detailed information on helping repatriated families adapt to their new environment and cope with the psychological trauma, emotional difficulties, and stress associated with past traumatic experiences. Kazakhstani and international experts developed the manual in accordance with international standards and ethical norms, and they included practical case management and psychological first aid recommendations. If necessary, case managers can provide full-fledged consulting services and refer repatriated families for legal aid, medical services, and other assistance.
"Children returned from conflict zones are primarily children. They went through a very traumatic experience that no child should have to face. The European Union is pleased to cooperate with the Kazakhstan Ministry of Foreign Affairs, UNICEF, UN Women, and the Committee for Children Rights Protection as well as with local executive bodies and non-governmental organizations. Our joint efforts not only strengthen the state system of psycho-social services, they improve the lives of children themselves, opening the door to a better future for them," said Kestutis Jankauskas, Ambassador of the EU Delegation to Kazakhstan.
The reintegration and subsequent acclimatisation of children into local society will help protect them from marginalization and discrimination. Meetings, conversations, and stories with returned children and their families using the 'stories between generations' framework will allow children to better understand not only their personal histories, traditions, and customs but also help them find their place in family, society and the country.
"The Republic of Kazakhstan is one of the first countries in the world to carry out the unprecedented Zhusan operation, during which more than 500 children were returned to the country. Today we are happy to receive information about their successes and achievements. 51% of children are A- and B-students. 30% of children became participants and winners of various academic competitions and creative contests. We sincerely believe that every child grows up as a proud citizen of the country," said Nassymzhan Ospanova, Chairperson of the Committee for Children Rights Protection of the Ministry of Education.
"Women and children returned from Syria and Iraq experienced serious violations of fundamental human rights. Children and women among civilians suffer the most in armed conflicts. We, at UN Women, have worked extensively with civil society organizations to incorporate a gender approach into their work with the returnees and their families, as well as strengthened gender-sensitivity of media professionals in covering such conflicts and their consequences", said Maria Dotsenko, UN Women Representative to Kazakhstan.
Conference participants also presented the main conclusions and recommendations developed using Kazakhstan's best practice for repatriating and reintegrating children and women returned from conflict zones.
UN entities involved in this initiative
UN Women
United Nations Entity for Gender Equality and the Empowerment of Women
UNICEF
United Nations Children's Fund