Story
Shadow of statelessness lifting in Kazakhstan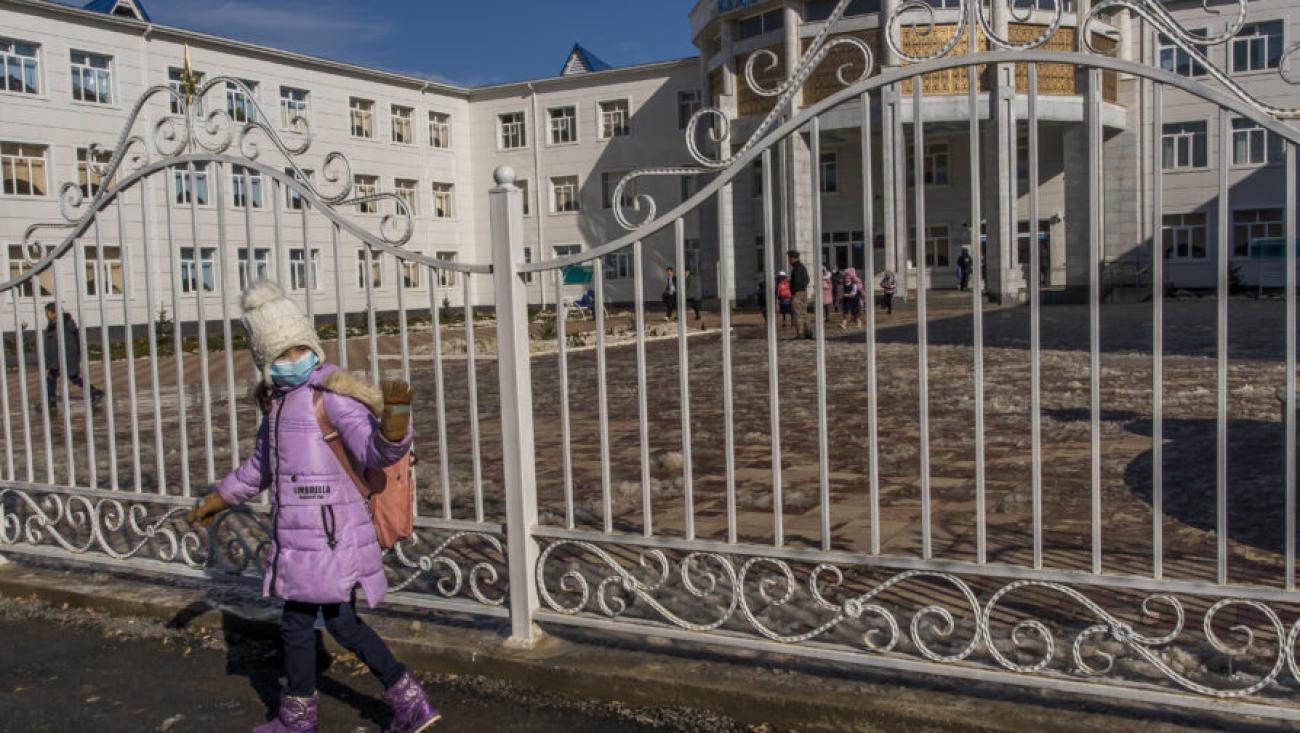 Changes in Kazakhstan's nationality laws have been putting citizenship within reach for many stateless families.
On a frosty morning in late 2021, Roza Nurymova* walked her nine-year-old daughter Marzhan to school through a neighbourhood of mostly vacant industrial buildings on the outskirts of Shymkent, near Kazakhstan's border with Uzbekistan.
Her two-year-old son Azat tottered alongside her, while her two older children waited for her to return to the family's two-room home.
At the time, Roza was an undocumented stateless person.
An ethnic Kazakh who was born in Uzbekistan, Roza moved to Kazakhstan in 2011 in search of work and ended up marrying and settling there. Like thousands of ethnic Kazakhs who returned to their historical homeland in the years following Kazakhstan's independence, Roza sought to obtain legal 'Kandas' – ethnic Kazakh – status. She renounced her Uzbek citizenship, believing that this was a necessary step to apply.
Roza was left with neither nationality, trapped in the position of losing her Uzbek citizenship before obtaining a new one, becoming an undocumented stateless person.
Roza's and other similar cases are linked to gaps and lack of safeguards in nationality laws, coupled with limited legal awareness among communities.
Statelessness in Kazakhstan
In Kazakhstan, there are both undocumented and documented stateless people.
Documented stateless people have a certificate from the government enabling them to stay in Kazakhstan, and access work, public services and healthcare.
Undocumented stateless persons, of whom Roza was one, are among most vulnerable groups as they have no legal status and do not have access to most socio-economic rights – it is like they do not exist.
There are nearly 7,600 people in Kazakhstan reported to be stateless or at risk of statelessness. The actual number may be higher, since undocumented stateless people are invisible to authorities.
A life of legal limbo
Life as an undocumented stateless person brought a life of legal limbo for Roza and her children. Without a legal identity, she was unable to register their births, leaving them without a nationality too. She was also unable to officially register her marriage to her husband, a Turkish national. The family's unpredictable and meager income came from the odd jobs that Roza and her husband struggled to find.
Marzhan loved school and was among the top students in her class, but at that time lacked the identity documents needed to be formally enrolled. The school had no record of her accomplishments.
Dropping off Marzhan at the school gates that day, Roza watched from a distance with a mix of pride and anxiety. "There is no evidence that she is a student in the school system. It's as if she does not exist," she said bitterly.
Statelessness limited the family in other ways too. Even for the most urgent medical care, doctors asked to see a birth certificate. Traveling across a border or benefiting from government support to low-income families were also out of the question. Her lack of documentation providing her identity took a toll on Roza's self-esteem. "Sometimes when people get to know that I don't have documents, they treat me like I am flawed," she said. "They think they can insult me."
Six months on, the situation has changed significantly for Roza and her family.
Lifting the shadow of statelessness
With support from Sana Sezim, a civil society partner of UNHCR, Roza applied for birth certificates for all her children in the hope of saving them from the life of hardships she had known. Sana Sezim also initiated a process for Roza to receive identity documents for herself, a first step towards gaining a nationality.
Roza has benefited from steps taken in recent years by Kazakhstan to put citizenship within reach for stateless families, particularly children. Since the launch of UNHCR's #IBelong Campaign to End Statelessness in 2014, the country has granted citizenship to over 9,000 stateless people. In addition, changes to Kazakhstan's Marriage and Family Code in 2019 entitle all children born in the country to be registered at birth and issued birth certificates, no matter what legal status their parents hold. The law is retroactive, making it possible for Roza's children to benefit.
In 2020, the Migration Services Committee of the Ministry of Interior launched a 20-month country-wide statelessness identification and documentation campaign. Nearly 9,000 undocumented stateless people were identified through the campaign, of whom 4,800 confirmed their citizenship of Kazakhstan and around 2,700 obtained legal stateless status.
Kazakhstan's efforts towards ending statelessness have opened up a new world for Roza and her family. By August 2022, she had received birth certificates for all her children. She had also received identity documents recognizing her as a stateless person under Kazakh law, enabling her to access medical services, open her own bank account, and apply for Kandas status.
"I was in shock," she said, recalling that moment. "I realized that finally I have documents… Now I am a full-fledged person, I can speak up. I can defend myself and live without fear for myself and my children."
*Name changed at subject's request
UN entities involved in this initiative
UNHCR
United Nations High Commissioner for Refugees