UN in Kazakhstan launches media contest "Change for Climate in Kazakhstan"
In honour of the World Environment Day the UN in Kazakhstan announces a media contest for Kazakhstani journalists "Change for Climate in Kazakhstan"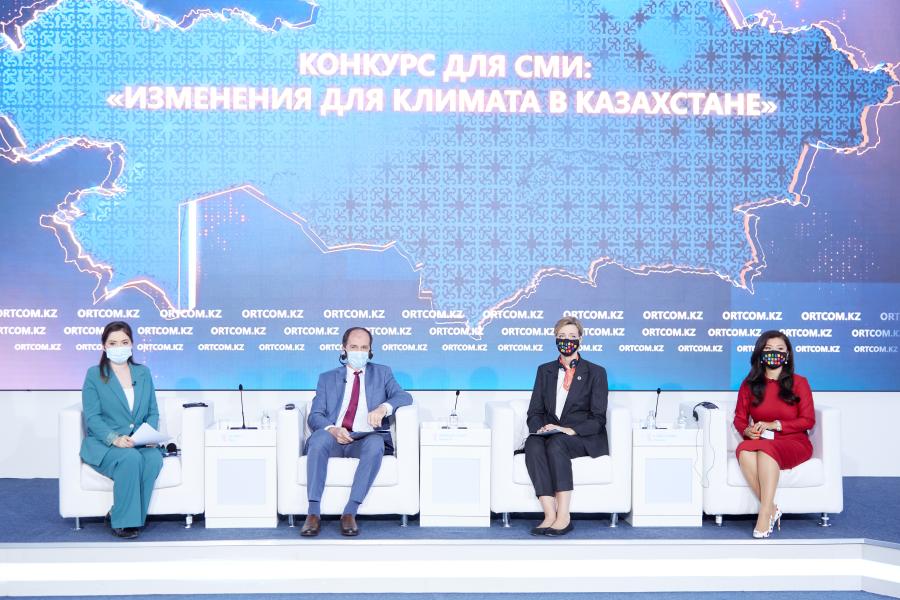 The contest aims to raise awareness about climate change in order to put the topic on the public agenda, inspire and encourage people to find climate solutions.
The UN Decade of Ecosystem Restoration 2021-2030 promotes the achievement of all 17 Sustainable Development Goals by 2030, including the eradication of poverty, hunger and aims to invest in initiatives to restore many hundreds of thousands ecosystems around the world, political support and technical capacity in both the public and private sectors. The climate emergency facing humanity today requires adequate and immediate action. In particular, there is an urgent need to bring the global temperature increase down to 1.5 degrees Celsius in accordance with the Paris Agreement. Efforts to combat climate change by countries, companies or citizens can benefit not only our planet, but also human health and well-being.
Journalists and bloggers are invited to participate by submitting an article of up to 800 words in the print and online media of Kazakhstan that will raise awareness of the threat posed by climate change to Kazakhstan and suggest possible solutions to mitigate or adapt to the effects of climate change.
UN Resident Coordinator in Kazakhstan Michaela Friberg-Storey noted: "Science tells us these next 10 years could be our final chance to avert a climate catastrophe, turn back the deadly tide of pollution and end species loss. With this contest we want to motivate people to find new, out-of-the-box solutions to restore ecosystems and raise environmental awareness."
The first, second and third place winners will receive valuable prizes worth USD 2,500, USD 1,300 and USD 800, respectively. The first place winner will have the opportunity to attend COP 26 in Glasgow in November 2021 if the COVID-19 pandemic situation allows physical participation. Also according to the results of the competition, the authors of the best 10 articles will receive certificates on behalf of the UN in Kazakhstan.
"For many years, the United Nations Development Programme has been a key partner of the Government of Kazakhstan in the issues of biodiversity and ecosystem conservation. Since 2004, with financial support from the Global Environment Facility in partnership with the Government of Kazakhstan, UNDP has implemented 10 large-scale biodiversity conservation initiatives, helping to protect unique nature and globally significant ecosystems of the country," said Yakup Beris, UNDP Resident Representative in Kazakhstan.
Despite a temporary reduction in emissions due to the pandemic, this century the Earth is approaching a global warming of at least 3°C, more than 1 million of 8 million plant and animal species are threatened with complete extinction, and pollution-induced diseases have caused some 9 million premature deaths annually.
"The UN Decade of Ecosystem Restoration will succeed if people unite as communities, as nations, and as a global movement. Each of us has a role to play, from politicians giving political impetus to change, scientists developing scientific solutions, business community transforming into green production, and youth and civil society, whose voice must be heard more loudly in the call to change the way we think about and value nature," stressed Aidai Kurmanova, Head of UNEP's Subregional Office for Central Asia.
2021 is particularly important in view of the upcoming meetings of the climate and biodiversity conventions, where governments must set mutually reinforcing and ambitious targets to protect the planet by almost double decreasing greenhouse gas emissions this decade, as well as through biodiversity conservation and restoration.
Details of the contest rules available at:
https://kazakhstan.un.org/en/130263-media-contest-change-climate-kazakhstan
Full video from the press-briefing.
Entries must be submitted in PDF or DOC format to contest@changepr.kz Applications will be accepted from World Environment Day (5 June) until midnight CET on 31 July 2021. For extra inquiries contact number: +7 727 272 05 09; cell: +7 707 638 97 74.
For more details please contact: Press Officer of the UN in Kazakhstan Ms Elnara Bainazarova, tel: +7 701 9400086, e-mail: elnara.bainazarova@un.org.
UN entities involved in this initiative
RCO
United Nations Resident Coordinator Office
UNDP
United Nations Development Programme
UNEP
United Nations Environment Programme